FOR IMMEDIATE RELEASE
MONTREAL, QC, February 26, 2021 (Press Release) –Numera today released the latest update of its Global Industrial Tracker, which points to weakening but positive output growth early in 2021. However, we expect industrial activity to accelerate during the summer months as higher vaccination rates lift demand for consumer goods.
Global industrial production grew 1.2% month-over-month in December. The strong performance primarily reflected strong growth in China and the United States. Production in China continues to benefit from strong credit growth and public investment, whereas operating conditions in the US have strengthened on the back of strong business and residential investment.
Our advance estimate for January points to growth of 0.6% versus December. While still higher than trend, this is considerably weaker than the pace of growth recorded in H2/20. Output growth will weaken temporarily now that China's economy and global merchandise trade are back to their pre-COVID path, but falling public health risks should boost activity in mid-2021.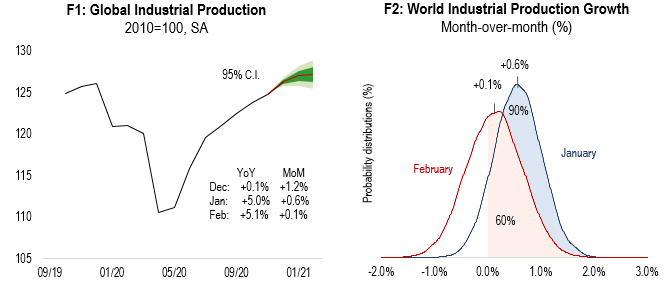 For more information please contact Chris Cook at ccook@numeraanalytics.com.