The March 2022 edition of our Commodity Market Outlook focuses on crude oil, covering recent market developments and our pricing outlook over the coming year. As usual, we also provide an update on our latest views on broad commodity markets.
This month's edition analyzes the outsized impact of the Russia-Ukraine war on commodity markets and trader sentiment. We expect commodity prices to move closer to fundamentals over the course of the year.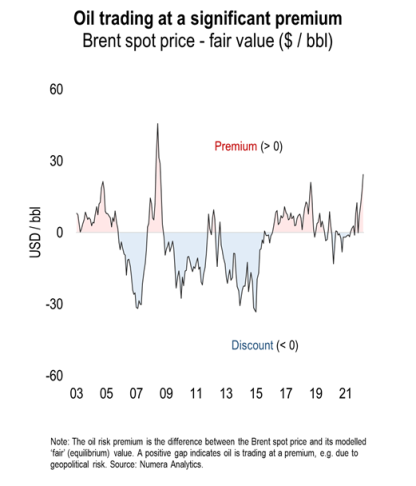 • Overall: A spike in uncertainty caused commodity prices to surge following the outbreak of the Russia-Ukraine war. A tentative normalization in trader sentiment and expectations of higher oil supply explain the partial reversal of the outsized gains recorded in previous weeks. The war's impact on growth also limits upside in commodity prices. We expect the broad commodity index to ease 12M out.
• Oil: The oil market remains tight, and a possible Russian supply shortfall creates significant near-term pricing uncertainty. However, a gradual increase in supply should ease speculation, while China's 'Zero-Covid' policy is the key downside risk. We expect Brent to trade close to $90 / bbl 12M out.
Please note that Numera clients can download every edition of our Global Commodity Outlook through our internal client website. If you would like to schedule a tour of the site, please contact Matthew Lapointe at mlapointe@numeraanalytics.com.