FOR IMMEDIATE RELEASE
MONTREAL, QC, October 21, 2020 (Press Release) – Numera today released its advance estimates of global industrial production for October, which suggest that growth has come to a near standstill. Our revised estimate for September reveals worldwide production last month expanded just 0.1% month-over-month (MoM), and was still 3.5% below its year-ago level. We expect this trend to continue this month. Our modelling of high-frequency data points to a gain of only 0.1% MoM as the most likely outcome for October, and roughly a 40% chance of contraction.

Weak production growth reflects both a slowdown in global manufacturing and flat growth in crude oil output following two months of above-trend expansion (see Numera's release on global manufacturing dated October 20th for background).
Meanwhile, final estimates for August show global industrial output rose 1.0% MoM, exceeding expectations (our advance estimate for August anticipated growth of 0.7%). Emerging markets (+1.2% MoM) continued to drive the recovery in industrial activity, which found itself 1.4% above the year-ago level.
The better-than-expected gain in August was largely a reflection of the recovery in manufacturing and construction in China, as well as stronger activity Europe and LatAm. In addition, oil production in August rose at its strongest pace in 10 months (+3.6% MoM), causing overall industrial activity to outperform the manufacturing sector. With activity in China having now normalized, a key driver of the global recovery has largely disappeared.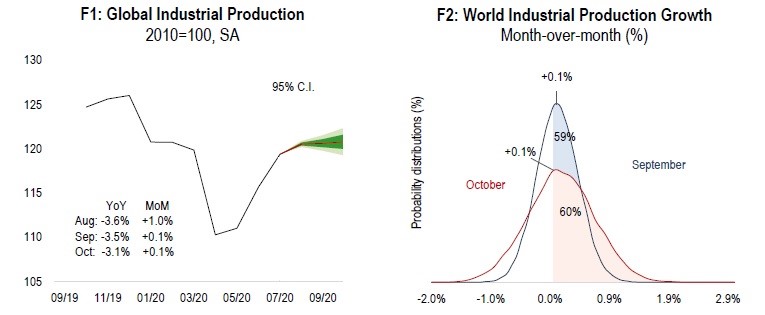 For more information please contact Chris Cook at ccook@numeraanalytics.com.