The December 2020 edition of Numera's US Macro Monitor  explores the rollout of the COVID-19 vaccine, and its impact on investor sentiment. Confidence in a swift economic recovery has caused equity prices to rise well above their 'fair' value, with important implications for new investments.
The US stock market has risen a staggering 15% over the past two months, as investors have looked beyond dire public health outcomes to focus on the approval of COVID vaccines. In a context of weakening activity, the ongoing equity rally is essentially a reflection of vaccine-related euphoria, as evidenced by soaring investor confidence.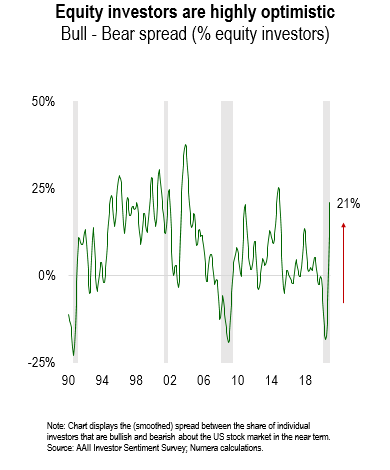 In this month's edition, we explore the implications of bullish market sentiment for US equity returns in 2021. In particular, we discuss how a slower-than-anticipated vaccine take-up could affect returns over the coming year.
For a full understanding of our research platform and to obtain a complimentary trial please contact Chris Cook at ccook@numeraanalytics.com.