The March 2022 edition of our US Macro Stategist focuses on the impact of rising oil prices and Fed tightening on the US economy and stock/bond portfolios. While both factors will dent growth prospects, we believe that fears of 1970s-type stagflation remain overstated, favouring risky assets.
The Russia-Ukraine war has stoked stagflation fears, as high oil prices fuel inflationary pressures and dent consumer purchasing power (F1). While high commodity prices dent growth prospects, high excess savings, pent-up demand for services, and a low expenditure share on energy and food limit recession risks.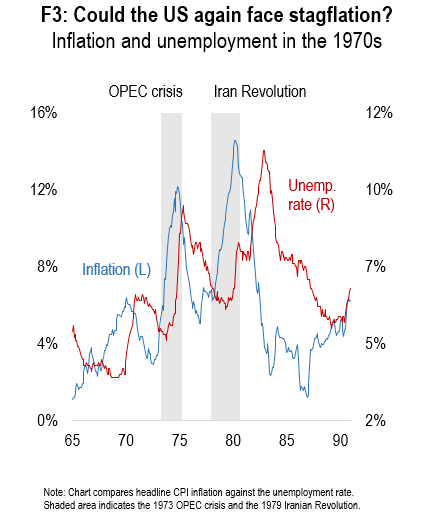 In this month's US Macro Strategist, we investigate the likelihood that the US economy experiences stagflation. As usual, we also offer actionable investment ideas to maximize returns in the current macro environment.
Please note that Numera clients can download all the charts through our client website. To download all the charts, please contact Matthew Lapointe at mlapointe@numeraanalytics.com.