The July 2021 edition of our Commodity Market Outlook focuses on base metals and iron ore, covering recent market developments and our pricing outlook over the coming year. As usual, we also provide an update on our latest views on broad commodity markets.
This month's edition focuses on industrial metals, among the strongest performing assets worldwide over this past year. We offer a 'deep dive' on base metals and iron ore, analyzing both the impact of economy-wide and industry-specific shocks on current and future market dynamics.
Although copper prices weakened over the past month, industrial metals generally continue to trade at very high levels. High prices reflect favourable supply and demand dynamics, as well as extensive speculative buying by traders amid bullish global growth prospects: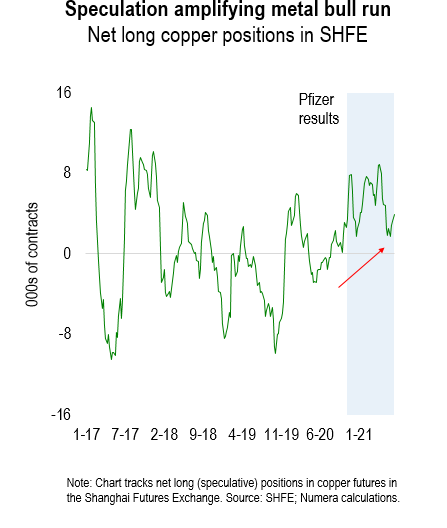 In this month's report, we investigate the likelihood of potential price corrections. While tight market conditions limit downside risk for copper, iron ore could weaken markedly over the next 12M as China's economy slows and trader sentiment normalizes.
If you would like more information, please contact Chris Cook at ccook@numeraanalytics.com.