The January 2022 edition of our US Macro Stategist explores the factors behind the ongoing stock market sell-off, and the likelihood of a lengthy correction. Given low recession risk, investors should retain a high equity exposure, but rotate away from tech as rising yields compress valuations.
After a strong 2021, US stocks have fallen near double-digits this month amid waning risk sentiment and concerns over Fed tightening. Most of the weakness is concentrated in tech, with the Nasdaq composite experiencing its weakest January in history: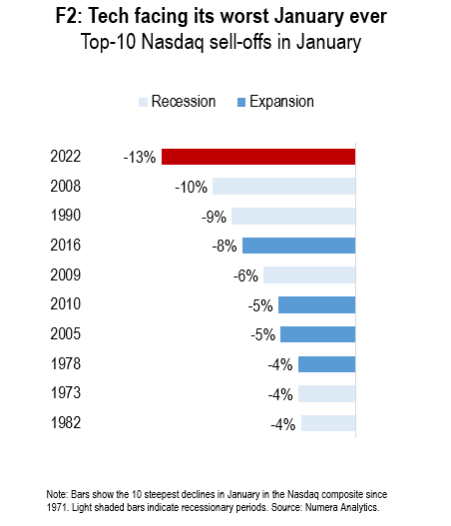 In this month's US Macro Strategist, we explore the likelihood that US stocks experience a deep and lasting correction. We believe the risk of a 2001-type adjustment is low, although rising yields and the market's high tech weighting calls for active style rotation to maximize 'alpha' in the current environment.
Please note that Numera clients can download all the charts through our client website. To download all the charts, please contact Hayley Reid at hreid@numeraanalytics.com..