FOR IMMEDIATE RELEASE
MONTREAL, QC, April 8, 2021 (Press Release) – Numera today released the latest update of its Global Retail Sales Tracker, which suggests that global retail spending continued to weaken in Q1 after peaking last October.
Real retail sales edged up 0.8% in January, trailing expectations. The underperformance primarily stemmed from emerging markets, where retail traffic fell 7% in January amid a surge in COVID cases.
Our revised estimate for February reveals a 1.5% drop, primarily owing to a 3.6% decline in the US amid unseasonably cold weather. Global retail spending should strengthen in coming months buoyed by rising vaccination rates and high personal savings. Preliminary data points to growth of 0.2% in March.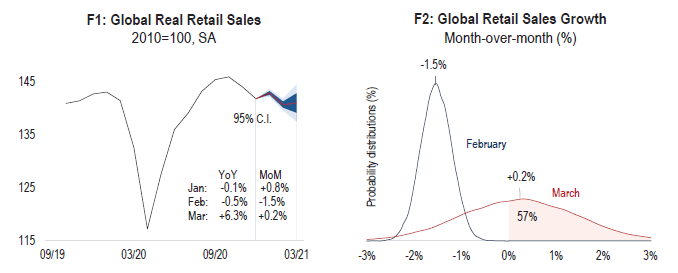 For more information please contact Chris Cook at ccook@numeraanalytics.com.