FOR IMMEDIATE RELEASE
MONTREAL, QC, May 21, 2021 (Press Release) – Numera today released the latest update of its Herd Immunity Tracker. This report will be published weekly for the remainder of the year. Its purpose is to complement available information on COVID-19 vaccination rates with timely estimates on projected times remaining until 70%+ immunity for all major economies.
Global vaccination campaigns continue to accelerate, with daily vaccinations increasing by 1.4M people per day over this past week to 0.45% of the world population. As a result, the estimated time towards 70%+ immunity is down 10% during this period to 7.3 months (end of December).
In developed markets (DMs), most of the improvement stems from the Eurozone and Canada, which over the past two weeks have vaccinated a staggering 1% of their population per day. Public health risks have eased considerably, with daily per capita case counts across DMs down 50% over the past month and 75% YTD.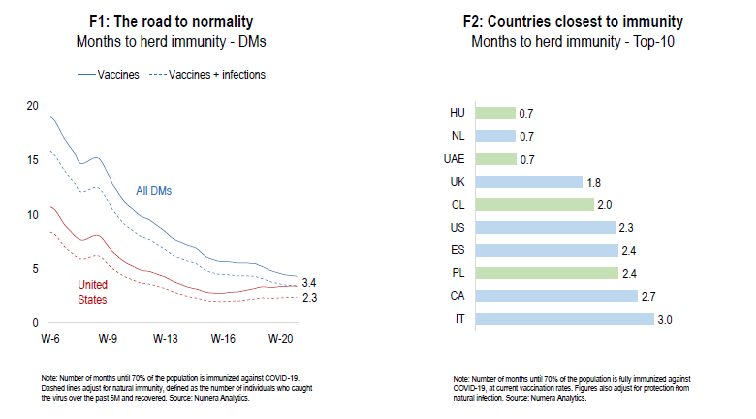 For more information please contact Chris Cook at ccook@numeraanalytics.com.