FOR IMMEDIATE RELEASE
MONTREAL, QC, April 16, 2021 (Press Release) – Numera today released the first edition of its Herd Immunity Tracker. This report will be published weekly for the remainder of the year. Its purpose is to complement available information on COVID-19 vaccination rates with timely estimates on projected times remaining until 70%+ immunity for all major economies.
Joaquin Kritz Lara, Numera's head of Macro Research, commented on this new weekly report: "Since most remaining economic losses worldwide are concentrated in contact services, tracking progress towards immunity is of crucial importance in predicting the speed and scope of recovery. Our goal with this weekly update is to provide the 'what if' of ongoing vaccination campaigns".
Daily global vaccinations accelerated further last week, cutting the time towards herd immunity by around 6%. At current vaccination rates, the world is one year away from reaching the 70% immunity threshold. Progress is much greater in developed markets, where rapid rollouts since March have dramatically reduced the number of months until normality. Our latest estimates suggest that developed markets as a whole could reach herd immunity in 4.3 months.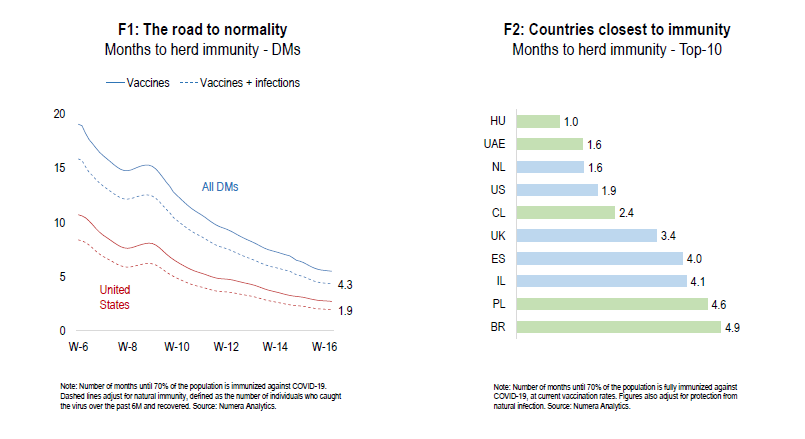 For more information please contact Chris Cook at ccook@numeraanalytics.com.