The January 2021 edition of our Commodity Market Outlook focuses on base metals and iron ore, covering recent market developments and our pricing outlook over the coming year. As usual, we also provide an update on our latest views on broad commodity markets.
This month's edition focuses on industrial metals, a key beneficiary of the COVID-19 pandemic. We provide a 'deep dive' on base metals (copper + aluminum) and iron ore, analyzing both the impact of economy-wide and industry-specific shocks on current and future market dynamics.
Industrial metals are trading at very high levels, fueled by strong cyclical conditions in China, strong residential construction, and bullish trader sentiment amid vaccine optimism. Eleven months into the COVID-19 crisis, base metals have outperformed most major asset prices.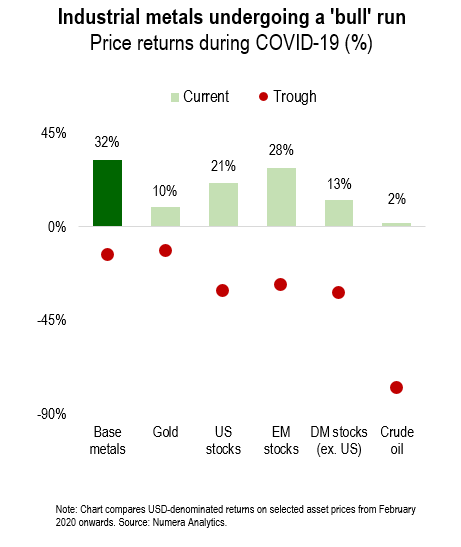 In this month's report, we explore the likelihood of a continuation of this metal 'bull' run as global mobility recovers. Despite a high probability of above-trend GDP growth, we believe there is a strong case for limiting exposure to both copper and iron ore in 2021.
If you would like more information, please contact Chris Cook at ccook@numeraanalytics.com.