The December 2020 edition of our Commodity Market Outlook focuses on gold prices, covering recent market developments and discussing our gold price outlook over the coming year. As usual, we also provide an update on our latest views on broad commodity markets.
This month's edition focuses on gold, down 9% since November as investors have rotated towards out-of-favour assets amid vaccine optimism. We offer a 'deep dive' on the impact of economy-wide and industry-specific shocks on current and future price dynamics.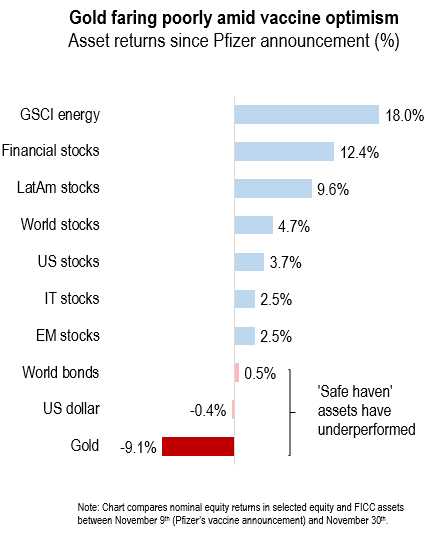 Despite the recent sell-off, we expect gold prices to remain elevated in 2021 propped up by continued monetary easing, higher inflation and stronger physical consumption. We also expect gold to make up an increasingly high share of mutual fund portfolios as gold – unlike bonds – is unaffected by the zero lower bound.
Next month's edition of our Commodity Outlook will focus on industrial metals, covering our latest views on base metals and iron ore. If you would like more information, please contact Chris Cook at ccook@numeraanalytics.com.