The August 2021 edition of Numera's Global Macro Monitor discusses the factors behind China's ongoing equity market sell-off. We explore the impact of macro forces and antitrust legislation on recent market performance, and evaluate the attractiveness of CN equity investments over the coming year.
After growing rapidly in 2020, CN equities have plummeted in 2021, with the benchmark MSCI China index trailing DM equities by nearly 30% year-to-date. Split by share type, the ongoing sell-off is overwhelmingly concentrated in foreign listings – particularly of US-listed technology stocks: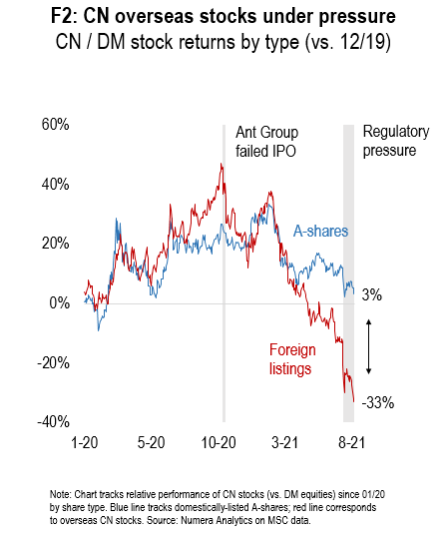 In this month's report, we investigate the factors weighing on CN stocks, and explore the risk-reward balance of new equity investments. Despite falling valuations, a narrowing growth 'premium' and regulatory uncertainty weaken the appeal of CN equities. As a result, we have downgraded our 12M equity calls for China to underweight.
For a full understanding of our research platform and to obtain a complimentary trial please contact Chris Cook at ccook@numeraanalytics.com.