The July 2021 edition of Numera's Global Macro Monitor focuses on LatAm stocks, which continue to underperform despite exceptional international conditions. We explore the factors currently weighing on returns, and evaluate the attractiveness of new investments over the coming year. 
LatAm stocks have consistently trailed global equities since the start of COVID-19. While initial losses reflected a sharp reversal in capital flows, the recent underperformance may appear surprising in a reflationary environment (a highly beneficial regime for high beta assets):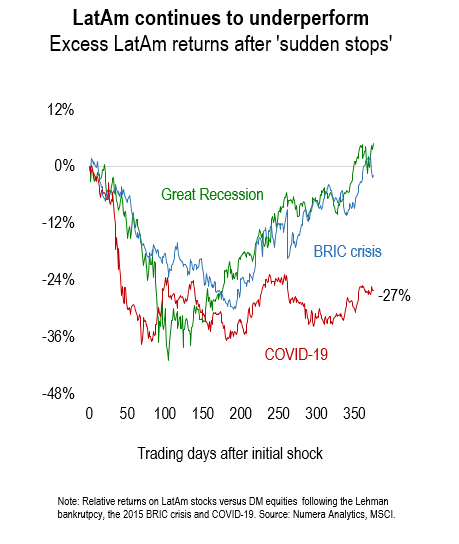 In this month's report, we evaluate the factors weighing on LatAm equities and the appeal of new investments. We find the region's public health crisis and political uncertainty are weighing heavily on asset returns. Elevated domestic risks increase the likelihood of steep potential losses, while reducing the risk-reward balance.
For a full understanding of our research platform and to obtain a complimentary trial please contact Chris Cook at ccook@numeraanalytics.com.