The June 2021 edition of Numera Analytics' Global Macro Perspectives report features in-depth commentary of the key macro themes shaping the global economic outlook, as well as our latest country and regional views on growth, inflation, and exchange rates. 
As we predicted last year, the global economy has now fully transitioned to a 'reflationary' regime, characterized by above-trend growth and accelerating inflation. Global PPI inflation in April came in at nearly 10% YoY, its highest reading in 16 years. Stronger final demand, in turn, is allowing suppliers in certain industries to pass on higher input costs to consumers, causing CPI inflation to accelerate in most countries in the world.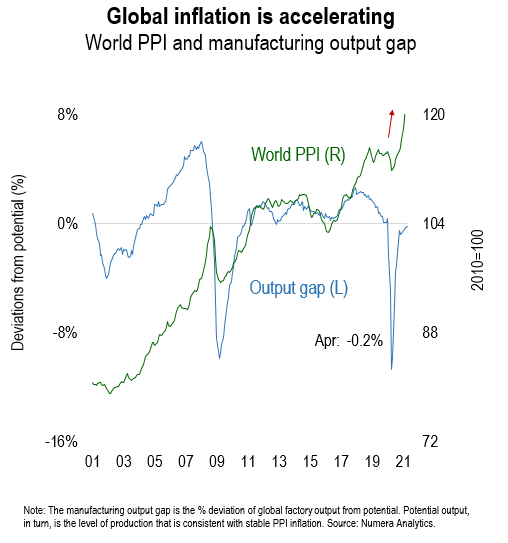 Please note that Numera clients are now able to download the 22 charts in Global Macro Perspectives via our new Macro client website. If you would like a website tour, please contact Chris Cook at ccook@numeraanalytics.com.