FOR IMMEDIATE RELEASE
MONTREAL, QC, November 23, 2020 (Press Release) – Numera's advance estimates for world manufacturing point towards a significant slowdown in Q4 factory output amid rising infection rates and declining mobility in advanced economies. Our revised estimate for October points to growth of 0.8% MoM (-0.2% YoY), as the recovery likely halted in countries experiencing a 'second wave'. Our advance estimate for November reveals a 40% chance of contraction this month, with the most likely outcome being factory output slowing to a standstill. This rapid deceleration again reflects weakening activity among countries re-imposing lockdown rules.
Meanwhile, final figures for September show that global production rose +1.2% MoM, outperforming last month's advance estimate. Emerging economies (+1.6% MoM) once again lead the recovery, and growth exceeded expectations in LatAm and DM Asia thanks to improvements in mobility and falling infection rates. In Europe, factory output was flat as the 'second wave' took hold. Producer prices recovered further in September, rising 2.1% annualized as the world manufacturing output gap continued to narrow, with actual production levels only 2.4% short of potential.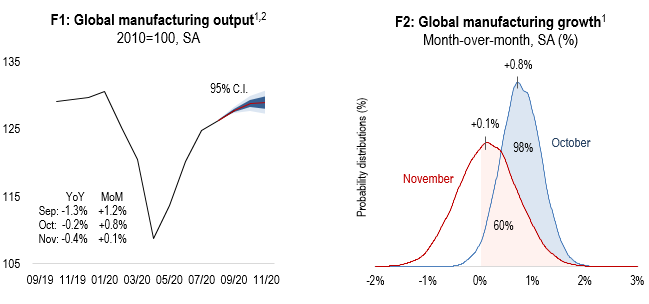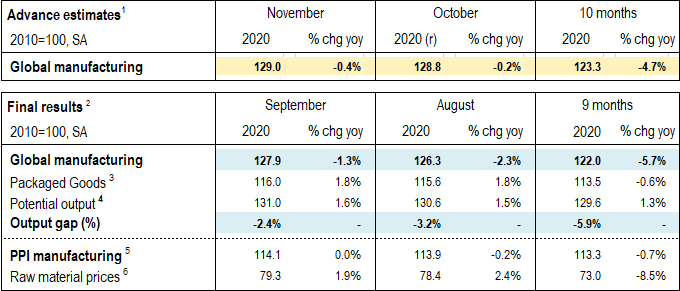 For more information please contact Chris Cook at ccook@numeraanalytics.com.