The June 2021 edition of Numera's Global Macro Monitor focuses on the Euro area, discussing EZ growth prospects and the regional investment outlook. Unlike past recessions, Europe should experience a sustained equity rally, underpinned by rapidly improving confidence and a strong Euro.
Few economies have experienced deeper economic losses from COVID-19 than the Euro area. Over the past few months, however, the region's impressive vaccination run has boosted consumer and business confidence, lowered uncertainty and allowed for a near-full recovery in away-from-home traffic.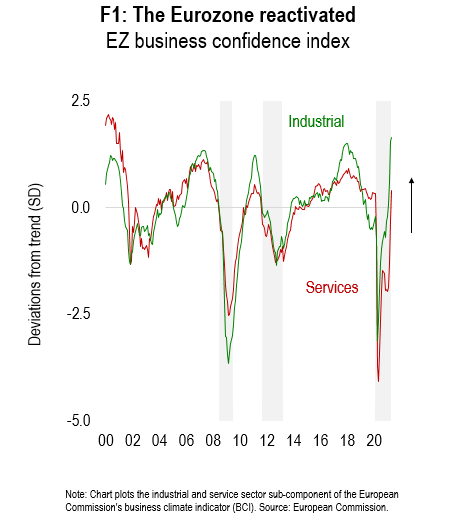 In this context, we investigate the likelihood of a full economic recovery, as well as the implications of the current macro landscape for EU stocks. We believe the Euro area will experience two years of exceptional growth, significantly improving the risk-reward balance of European equity investments.
For a full understanding of our research platform and to obtain a complimentary trial please contact Chris Cook at ccook@numeraanalytics.com.