The November 2020 edition of our Commodity Market Outlook focuses on crude oil, covering recent market developments and discussing the oil price outlook over the coming year. As usual, we also provide an update on our latest views on broad commodity markets.
This month's edition focuses on crude oil, a segment that remains deeply impacted by COVID-19. We offer a 'deep dive' on the impact of both economy-wide and industry-specific shocks on current and future market dynamics.
The crude oil balance tightened significantly in the third quarter, reflecting both stronger demand and tight OPEC+ production. Although a tightening of control measures may create near-term volatility, we expect prices to rise considerably over the next 12M, fueled by a weak USD, vaccine progress and weak production growth: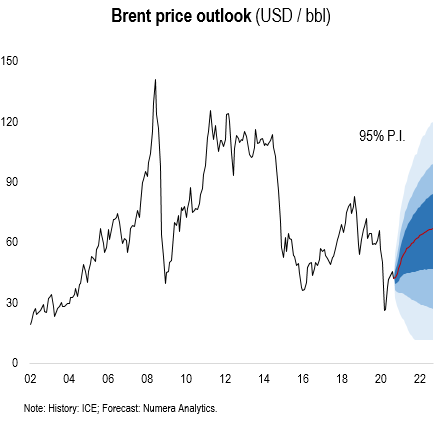 Next month's edition of our Commodity Outlook will focus on gold prices. If you would like more information, please contact Chris Cook at ccook@numeraanalytics.com.