The August 2020 edition of our Global Macro Monitor focuses on the Chinese economy and implications for commodity investments. We explore the factors behind China's rapid bounce back, and the sustainability of the ongoing recovery. We then evaluate the appeal of new commodity investments, paying special attention to crude oil and industrial metals.
China's economy has strengthened markedly since grappling with the original COVID outbreak. The rapid bounce back has important growth and investment implications. One key consequence of the diverging performance between China and the rest of the world is that commodities demand has now normalized despite steep global GDP losses: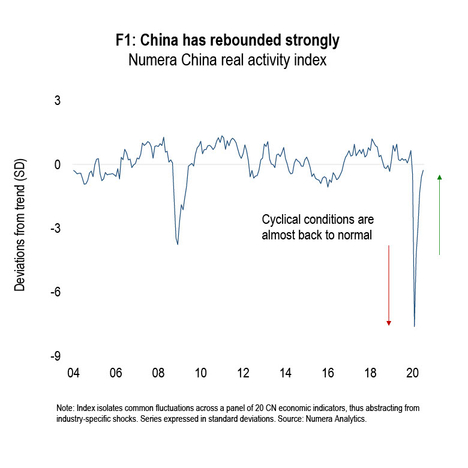 In this month's edition, we investigate the factors behind China's 'v-shaped' recovery, and discuss whether China will continue to outpace other regions this year and in 2021. We then investigate the attractiveness of new commodity investments versus other risky assets.
Despite elevated downside risk, we find that new investments retain a very high upside, which justifies strong absolute and relative overweight positions on 12M holdings. We favour a balanced mix between crude oil and metals to benefit from higher expected returns on crude oil while limiting left-tail risk.
For a full understanding of our research platform and to obtain a complementary trial please contact Chris Cook at ccook@numeraanalytics.com.